After months of hard work, I'm excited to release a whole new feature for Complete Ear Trainer: Custom Programs.
In addition to still be able to create quick single custom drills, you can now create full custom training programs with up to 20 chapters and 20 drills per chapter. Custom programs are really useful if you want to build a personalized training program and are offering many options: chapters/simple drill list, scoring, stars, number of required stars, etc.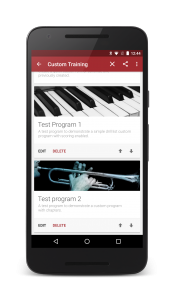 But that's not all, you can invite friends or students to join your custom programs. Each custom program can have its own private leaderboards and for example if you're a teacher you can create custom programs for your students, add drills every week and see their scores on the leaderboards.
I'll sure be using this myself when teaching!