Almost a year since I have made a post about Complete Ear Trainer, Complete Rhythm Trainer and Complete Music Reading Trainer. Time for an update!
First I have a developed a translation management system so anyone can help translating the apps in different languages. You can find it here: https://translate.binaryguilt.com. Thanks to this tool, but above all thanks to the wonderful Maksym Vlasov, Ezequiel Santos, Tomasz Sęczkowski, Christian Plonka and Miranda Roll-Lund: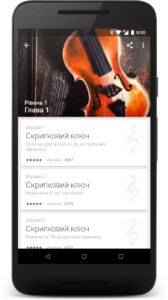 Then, these last few months I added two sections to Complete Rhythm Trainer: Polyrhythms (play and practice any polyrhythm) and Free Practice (write and play any rhythm).
On the iOS side, Benjamin Rossi is hard at work on the iOS port and we finally released custom programs for the iOS version of Complete Ear Trainer. Custom programs are of course cross-platform and you can create custom programs for your students that can be joined and played from both Android and iOS devices. Remaining features are currently ported (additional sound banks, UI update, etc.) and as soon as it is done, Complete Rhythm Trainer and Complete Music Reading Trainer port will start. We hope to release everything this year.
That's all for now!